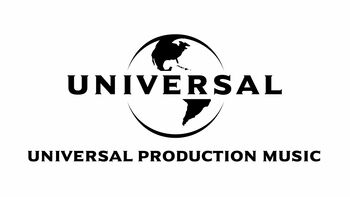 Formerly
BMG Zomba 制作音乐(2003-2007)
环球出版制作音乐(2007-2017)
美国和加拿大
Killer Tracks 制作音乐(至 2019 年)
法国和德国
卡帕加马(至 2021 年)
合并/收购
FirstCom Music(直到 2021 年在美国和加拿大合并)
BMG Zomba Production Music (2003-2007)
Universal Publishing Production Music (2007-2017)
United States and Canada
Killer Tracks Production Music (until 2019)
France and Germany
Kapagama (until 2021)
Mergers/Acquisitions
FirstCom Music (until merged in 2021 in the United States and Canada)
Founded
2003
Country
United States
Worldwide
Owner
Universal Music Publishing GroupUniversal Production Music 是一家制作音乐发行商,在将当时最近收购的 Zomba Production Music 部门并入 BMG 后,于 2003 年作为 BMG Zomba Production Music 成立。 2007 年,环球音乐出版公司收购了 BMG 音乐出版公司和 BMG Zomba Production 音乐库。
Universal Production Music 在美国和加拿大的分销商前身为 Killer Tracks Production Music,以美国制作音乐库 Killer Tracks 命名。 2019 年,Killer Tracks Production Music 更名为 Universal Production Music。
2021 年 7 月 12 日,Universal PM 的美国分公司和 FirstCom Music 合并,因此后者的目录可在前者的网站上找到。
2022 年 2 月,Universal PM 推出了一个名为 Usample 的新网站。 在他们的标签下,Bruton Vaults 和 Chappell Vaults,他们一直在数字化这两个目录。
Universal Music Publishing GroupUniversal Production Music is a production music distributor founded in 2003 as BMG Zomba Production Music after folding the then-recently acquired Zomba Production Music unit into BMG. In 2007, Universal Music Publishing acquires BMG Music Publishing and the BMG Zomba Production Music library.
Universal Production Music's distributor in the United States and Canada was formerly known as Killer Tracks Production Music, named after the American production music library, Killer Tracks. In 2019, Killer Tracks Production Music was rebranded to Universal Production Music.
On July 12, 2021, Universal PM's US branch and FirstCom Music were merged and as a result, the latter's catalogs are available on the former's site.
In February 2022, Universal PM launched a new website under the name of Usample. Under their labels, Bruton Vaults and Chappell Vaults, they have been digitizing the two catalogs.
Former libraries
Access Promo
Cezame
Immediate Music (2008-2017, 2013-2017 (in North America))
Nightingale Music Library (in South East Asia, Australia and New Zealand)
Noise Pump Music (in Scandinavia and India)
Parry Music (in Hong Kong)
Sonoton (in Hong Kong; until late 2010's)
UBM Media
Libraries
3Monkeys
10 Miles (outside Israel)
A Remarkable Idea
A-List Music
Abbey Road Masters
Access Music
AFROSONIC (outside South Africa)
As Seen On TV
Atlantic Seven (in South East Asia)
Atmosphere
Atomic Overture (selected territories)
Audio Wax
Aurora Production Music
BBC Production Music
Berlin Production Music
Best 4
BLOCK
BPM Score Music
Bruton Music (outside of the United States and Canada)
Capitol Studio Masters
Chappell Recorded Music Library
Chronicles of Hip Hop
Classical
Connect Music
CPM Music (in Hong Kong)
Cute Music (selected territories)
DarkFly
Deutsche Grammophon
Elias Music
ENERGY Music
Essential Africa (outside South Africa)
Essential Asia
EVO
FCAnimated
FirstCom Music
Flexitracks
Focus Music
Freshworx
Front Runners
Galerie
Gotham Music
Gum Music Society
GUM Tapes
Hypersonic Music
In Reality
Invasion From Mars (outside North America)
K2
Killer Tracks

Chronic Trax
Chuck D Presents
Greatest Hits
ICON Trailer Music
Killer Animation
Killer Artist Series
Killer Edge
Killer Latino
Killer Promos
Killer Scores Set
Killer Stage And Screen
New York Beats (NYB) (Formerly known as Not Just Jingles (NJJ))
Zero to Sixty

Koka Media
Kosinus (outside of the United States and Canada)
LEGACY (selected territories)
L'Illustration Musicale
The License Lab (selected territories, in North America through Elias Music)
Liquid Cinema (selected territories)
Mannheim Steamroller
MasterSource
Match Music
Music House (only in United States)
Music Journey
Network Music
Ninja Tune Production Music (outside United Kingdom)
Noise Refinery  (outside North America)
Nordic ID
Nova
Nuggets
Nuvotone
OneMusic
Paris Music
Pedigree Cuts
Point Production Music
Pop Machine (selected territories)
RCAL
Reality by Christopher Franke
ReverbNation Music (selected territories)
Roadside Couch
Sampler
Sarao Music
Score Addition
Scoring Pictures
SEE
Sketch Music
Sonic Beat Records
Soho Production Music (selected territories)
Sound Pocket Music
SoundBreakers
Strange Fruit (in South East Asia, Australia and New Zealand)
SXSW Music Library (outside of North America)
Storyteller
True Stories
Ultimate Latin Series
Universal Trailer Series
Velocity
Vitamin A
Volta Music
Wall of Noise
Warner Bros. Production Music
Zone Music (only in North America)